About Digispec®
…we've been trusted with more mouse pad promotions than ALL other industry suppliers
When You Think of Digispec®, Think of the largest dedicated mouse pad manufacturer in the United States. With over 350 million mouse pads produced, we've been trusted with more mouse pad promotions than any other industry supplier. Our mouse pad expertise and devotion to customer service means you can always count on Digispec® to deliver the Solid Quality, Reliable Service, and Competitive Pricing you need to delight your customers and grow your business.
Founded in 1996 - Still Going Strong!
As we look back over the years, it seems we've manufactured mouse pads for every major brand on the planet. Amazingly, we've made over 350 million pads, which is enough to circle the globe more than 1½ times. We've had the privilege of being the industry leader in our category and have been honored with almost every industry award available.
It has been a rewarding, challenging, wild ride! After these many years, we are mindful of all the customers, suppliers, employees, and friends who made this all possible. We wouldn't have wanted to do it without you.
For more about our company, see the Digispec® News below. Put a face on the people who make up the DIGISPEC® Team or, better yet, take a look at our Trade Show Schedule and come visit us in person next time we're in your area. Thank you for your interest in Digispec®.
Counselor Product Design Award
Digispec's
Mouse Paper Calendar®
has been chosen by Counselor Magazine as a runner up in the Counselor Product Design Awards. The awards recognize "innovative, functional and eye-catching products in the ad specialty industry."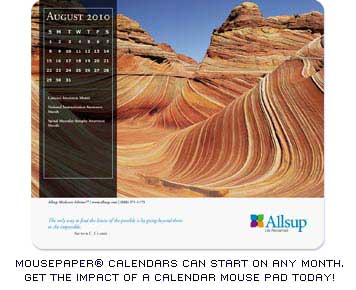 Awards & Recognition
2021

2021 ASI Distributor Choice Award WINNER 20 Years in a row!
2021 Gold PPAI Pyramid Award in Supplier Decorating for Print On Textiles

2020

ASI Distributor Choice Award WINNER 19 Years in a row! – Mouse Pads Category

2019

Counselor 2019 Supplier of the Year
ASI Distributor Choice Award WINNER 18 Years in a row! – Mouse Pads Category

2018

ASI Distributor Choice Award WINNER 17 Years in a row! – Mouse Pads Category

2017

ASI Distributor Choice Award WINNER 16 Years in a row! – Mouse Pads Category

2016

ASI Distributor Choice Award WINNER 15 Years in a row! – Mouse Pads Category

2015

ASI Distributor Choice Award WINNER 14 Years in a row! – Mouse Pads Category

2014

2014 PPAI Supplier Star Award
2014 PPAI Image Award, Printed Supplier Catalog: 1-25 pages (Silver)
ASI Distributor Choice Award WINNER 13 Years in a row! – Mouse Pads Category
ASI Distributor Choice Award WINNER – Hospitality Category

2013

2013 PPAI Supplier Star Award
ASI Distributor Choice Award WINNER 12 Years in a row! – Ranked #1 in Mouse Pads Category
ASI Distributor Choice Award WINNER – Ranked #1 in Hospitality Category (new category)

2012

ASI Best Places to Work - 2012
2012 Identity Marketing Readers Choice Awards – Ranked #1 in Mouse Pads Category
ASI Distributor Choice Award WINNER 11 Years in a row!

2011

ASI Best Places to Work – 2011
ASI Multi-Million Dollar Roundtable Member
ASI Distributor Choice Award Winner 10 years in a row!
ASI Counselor Product Design Awards, Finalist
Promotional Marketing Supplier Excellence Award
2011 PPAI Supplier Achievement Awards, Finalist

2010

ASI Best Places to Work – 2010
ASI Multi-Million Dollar Roundtable Member
2010 ASI Product Design Award Finalist, MousePaper® Calendars
2010 Identity Marketing Readers Choice Awards – Finalist in Mouse Pad Category
2010 PPAI Supplier Achievement Awards, Offset Process (Gold)

2009

ASI Multi-Million Dollar Roundtable Member
2009 ASI Product Design Award Finalist, MousePaper® Calendars
2009 Identity Marketing Readers Choice Awards – Ranked #1 in Mouse Pad Category
2009 Promotional Marketing SUPPLIER EXCELLENCE Award, Silver Winner for Computer Accessories

2008

ASI Best Places to Work – 2008
ASI Multi-Million Dollar Roundtable Member
2008 Corporate Logo Best of Business – Ranked #1 – Best Computer Accessories Supplier
2008 Identity Marketing Readers Choice Awards – Ranked #1 in Mouse Pad Category
2008 Identity Marketing Readers Choice Awards – Ranked #4 in Top Customer Service
2008 PPAI Supplier Achievement Awards, Offset Process on Other Surfaces (Silver)
2008 Promotional Marketing SUPPLIER EXCELLENCE Award, Finalist for Office & Desk
2008 Promotional Marketing SUPPLIER EXCELLENCE Award, Bronze Winner for Computer Accessories
2008 NWPMA Supplier of the Year Finalist
2008 NWPMA Customer Service Representative of the Year Finalist

2007

ASI Multi-Million Dollar Roundtable Member
2007 ASI Product Design Award Winner, MousePaper® Calendars
2007 ASI Product Design Award Finalist, Frame-It® FLEX
2007 Corporate Logo Best of Business – Ranked #1 – Best Computer Accessories Supplier
2007 Corporate Logo Best of Business – Ranked #10 – Best Sales Force
2007 Geiger Gold Production Partner
2007 PPAI Supplier Star Award of Merit S10 Category
2007 PPAI Supplier Achievement Awards, Most Creative Calendar (Silver)
2007 PPAI Supplier Achievement Awards, Special Processes Not Otherwise Categorized (Gold)
Premier Group 2007 Best Overall Performance
2007 Promotional Marketing SUPPLIER EXCELLENCE Award, Finalist for Office & Desk
2007 Promotional Marketing SUPPLIER EXCELLENCE Award, Silver Winner for Computer Accessories
2007 SAAGNY Customer Service Representative of the Year
2007 TRASA Supplier of the Year

2006

American Identity 2006 "Prestige Partner"
ASI Multi-Million Dollar Roundtable Member
Barker Specialty Company 2006 Supplier Customer Service of the Year
2006 Corporate Logo Best of Business – Ranked #1 – Best Computer Accessories Supplier
2006 Corporate Logo Best of Business – Ranked #7 – Best Tradeshow Booth
2006 Corporate Logo Best of Business – Ranked #9 – Best Customer Service
2006 Geiger Award of Excellence
2006 PPAI Supplier Star Award of Merit S10 Category
2006 PPAI Supplier Achievement Awards, Offset Process on Paper (Silver)
2006 PPAI Supplier Achievement Awards, Offset Process on Other Surfaces (Silver)
2006 PPAI Supplier Achievement Awards, Special Processes Not Otherwise Categorized (Silver)

2005

ASI Multi-Million Dollar Roundtable Member
2005 Corporate Logo Best of Business – Ranked #1 – Best Computer Accessories Supplier
2005 Corporate Logo Best of Business – Ranked #5 – Best Customer Service
2005 Geiger Award of Excellence
2005 PPAI Supplier Star Award of Merit S9 Category
2005 PPAI Supplier Achievement Awards, Offset Process on Other Surfaces (Gold)
2005 PPAF Supplier of the Year

2004

ASI Multi-Million Dollar Roundtable Member
2004 BrandVia Team Outstanding Representative Award
2004 BrandVia Team Outstanding Product & Service

2003

ASI Multi-Million Dollar Roundtable Member
Goldman Promotions 2003 Key Supplier Partner
2003 PPAI Supplier Achievement Awards, Offset Process on Paper (Gold)

2002

ASI Multi-Million Dollar Roundtable Member
2002 ASI Spirit Award Winner, Customer Service Excellence
2002 PPAI Supplier Star Award of Merit S8 Category
2002 PPAI Supplier Achievement Awards, Most Beneficial Marketing Aids (Silver)

2001

ASI Multi-Million Dollar Roundtable Member

2000

ASI Multi-Million Dollar Roundtable Member
2000 ASI Spirit Award Winner, 10 Fastest Growing Suppliers
American Identity 2006 "Prestige Partner"
ASI Best Places to Work – 2008
ASI Distributor Choice Award Winner 10 years in a row!
ASI Multi-Million Dollar Roundtable Member
ASI Product Design Awards

2010 – Award Finalist, MousePaper® Calendars
2009 – Award Finalist, MousePaper® Calendars
2007 – Award Winner, MousePaper® Calendars
2007 – Award Finalist, Frame-It® FLEX

ASI Spirit Award Winner

2002 – Customer Service Excellence
2000 – 10 Fastest Growing Suppliers

Barker Specialty Company 2006 Supplier Customer Service of the Year
The BrandVia Team:

2004 – Outstanding Representative Award
2004 – Outstanding Product & Service

Corporate Logo Best of Business:

2008 – Ranked #1 – Best Computer Accessories Supplier
2007 – Ranked #1 – Best Computer Accessories Supplier
2007 – Ranked #10 – Best Sales Force
2006 – Ranked #1 – Best Computer Accessories Supplier
2006 – Ranked #7 – Best Tradeshow Booth
2006 – Ranked #9 – Best Customer Service
2005 – Ranked #1 – Best Computer Accessories Supplier
2005 – Ranked #5 – Best Customer Service

Geiger Awards:

2007 – Gold Production Partner
2006 – Award of Excellence
2005 – Award of Excellence

Goldman Promotions 2003 Key Supplier Partner
Identity Marketing Readers Choice Awards

2010 – Finalist in Mouse Pad Category
2009 – Ranked #1 in Mouse Pad Category
2008 – Ranked #1 in Mouse Pad Category
2008 – Ranked #4 in Top Customer Service

PPAI Supplier Star Awards:

2007 – Award of Merit S10 Category
2006 – Award of Merit S10 Category
2005 – Award of Merit S9 Category
2002 – Award of Merit S8 Category

PPAI Supplier Achievement Awards:

2010 – Offset Process (Gold)
2008 – Offset Process on Other Surfaces (Silver)
2007 – Most Creative Calendar (Silver)
2007 – Special Processes Not Otherwise Categorized (Gold)
2006 – Offset Process on Paper (Silver)
2006 – Offset Process on Other Surfaces (Silver)
2006 – Special Processes Not Otherwise Categorized (Silver)
2005 – Offset Process on Other Surfaces (Gold)
2003 – Offset Process on Paper (Gold)
2002 – Most Beneficial Marketing Aids (Silver)

Premier Group 2007 Best Overall Performance
Promotional Marketing SUPPLIER EXCELLENCE Awards

2009 Silver Winner for Computer Accessories
2008 Finalist for Office & Desk
2008 Bronze Winner for Computer Accessories
2007 Finalist for Office & Desk
2007 Silver Winner for Computer Accessories

Promotional Marketing Top 50 Suppliers
Regional Associations

2008 – NWPMA Supplier of the Year Finalist
2008 – NWPMA Customer Service Representative of the Year Finalist
2007 – SAAGNY Customer Service Representative of the Year
2007 – TRASA Supplier of the Year
2005 – PPAF Supplier of the Year