New Box Label Feature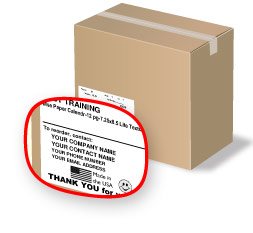 Digispec is pleased to announce a programming change to their box labels. Each box label now includes the Distributor's Name, Company Name, Phone Number, and Email Address as the reorder contact.
There have been some interesting discussions recently on blog sites about the merits of including distributor contact information on shipping boxes. We thought it was a good idea, so we reprogrammed our label printing software to pull the contact data from our order system. By using this contact data, we were able to implement the change quickly; but, it limits the information available for the label to Contact Name, Company Name, Phone number, and Email address. Other information automatically included in the new label format is your PO number, our work order number, job name, product description, box weight, pieces per box, box count, Made in the USA logo, and "Thank you for your order!".
We feel this is a positive step to help distributors capture repeat orders and we will be interested to hear how this impacts business.