2019 Promotional Products Supplier of the Year – Digispec
With its laser focus and outstanding service, the Las Vegas-based mouse pad manufacturer reigns supreme in 2019.
by John Corrigan (Originally published January 4, 2019 on asicentral.com)
At their first industry tradeshow, some two decades ago, the team at Digispec (asi/49716) instantly put themselves on the map. Decked out in denim shirts and blue jeans with a red rag in the back pocket, the mouse pad manufacturers looked like they belonged on a Bruce Springsteen album cover. Their blue-collar image struck a chord with distributors, opening the lines of communication with many potential clients.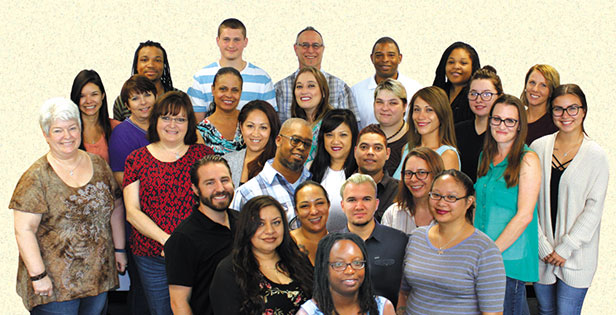 Digispec, the 2019 Promotional Products Supplier of the Year.
From there, company founder and president Ed Hamilton credits his employees' ingenuity, endless dedication and outstanding service to maintaining those client relationships ever since. Those attributes are a huge factor in why Digispec is Counselor's Supplier of the Year for 2019.
"You won't hear sensationalist customer service stories out of us," Hamilton says. "In order for an organization to survive, those have to be very rare. We provide absolute reliability and consistency. We do what we say and we make the customer experience reliable and enjoyable through the whole ordering process."
Indeed, this latest honor builds on a long run of consecutive successes, with Digispec having taken top spot in the Mouse Pads category of Counselor's Distributor Choice Awards for 18 straight years. Additionally, the company has been frequently named to Counselor's Best Places to Work list. Hamilton takes great pride in his team's accolades, forwarding all awards, recognition and positive feedback from customers to his 285 employees. "I make sure everybody gets a pat on the back," he says. "After all, it takes a lot to do what we do."
Building an Empire
While serving in the U.S. Air Force, Hamilton studied finance operations and art before getting his MBA in organizational behavior at Utah State University. He went to work for the Kimberly-Clark Corporation, dabbling between the accounting department and production side. Interested in technology, Hamilton describes himself as "engineer-like," preferring to write software and design computer systems. He decided to scratch the tech itch by starting H&H Enterprises in his California garage in 1983.
The company made computer novelty products such as The Friendly Computer Bug, a lapel pin made from integrated circuit with googly eyes and a tail. As the decade went on, Apple began distributing mouse pads, propelling the item into the mainstream. Hamilton hopped on the bandwagon and never looked back.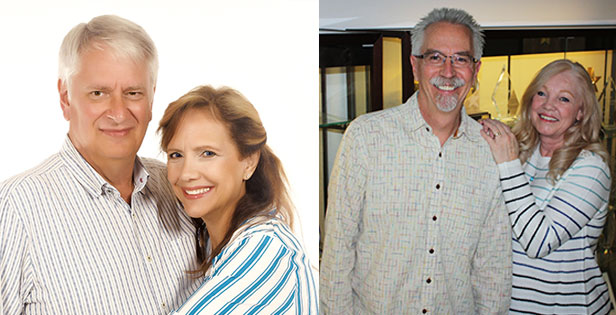 "We became a market-focused, product-focused company," he says. "Our marketing philosophy was to become synonymous with mouse pads. We just don't believe in muddying up our brand by offering other product lines not associated with our market."
Hamilton launched Digispec in 1997 with this tagline: "When you think of mouse pads…think of Digispec." Relying upon cutting-edge, state-of-the-art equipment and American-made materials, Digispec quickly dominated the promo mouse pad space. By 2003, the company purchased its two largest competitors: Minneapolis-based XJD Corp and Utah-based DataPad. As a result, Digispec became the largest mouse pad manufacturer in the promotional products industry.
In order to capitalize on the company's growth, Hamilton launched CounterPoint – a point-of-purchase counter mat manufacturer – in 2001 and Visstun – a promotional drinkware producer – in 2006. All three companies are part of Hamilton's Time's Up, Inc. Each division operates independently, but all three are headquartered in Las Vegas.
"We believe each product line should have a brand name and marketing space," Hamilton says. "Our marketing approach has given us the ability to become the leading supplier in niches we compete in. That's fantastic when you talk to customers and they say they don't even look at anyone else."
People Power
Monique Favreau sure hasn't looked anywhere else since joining H&H Enterprises in 1996. Originally hired as Hamilton's assistant, she never actually filled that role because the first day that her boss walked in with CRM software, Favreau jumped at the chance to get involved with sales and marketing.
"Being involved from the beginning, there's a lot of pride in helping grow something along the way," says Favreau, now the company's operations director. "I love coming to work every day, even though it can be really rough and busy. Ed is a developer – there's no moss growing anywhere around that man. He's a visionary and very much forward-thinking."
"We became a market-focused,
product-focused company."Ed Hamilton, Digispec
Digispec runs on a computer program that Hamilton wrote himself. A strong believer in manual as well as computer systems, his goal is to ensure that distributors receive the same quality service every time, eventually establishing reliability. The systems are clearly working because ASI data shows distributors rank Digispec toward the head of the pack when it comes to everything from service and product quality to conflict resolution and communication.
The company values personal interaction, assigning a sales rep and customer service rep to every distributor client. "We talk to people," Hamilton says. "We try and make sure they can build a relationship when they call in. No call center approach – we believe in a personal touch."
Distributors, no doubt, appreciate this level of attention. "We've been working with them for years and years," says Pat Lothian, office manager at Virginia-based Arntz Promotions (asi/444460). "With their pricing, customer service and always getting things done on time, they're good."
Another longtime distributor client – Joseph Miller, co-owner of Florida-based AiA LogoTools (asi/444130) – is in full agreement. "They make it easy, communication is good, service is good, they don't miss deadlines and the overall quality of service is great," Miller says.
To win such positive reviews it takes both terrific employees and an excellent culture. Hamilton, who has six kids and 13 grandkids, treats his employees as extended family, fostering a casual, laid-back environment. Everybody wears blue jeans to work – no ties allowed. Back in the day, if somebody showed up to work in a suit and tie, they had to drive around the parking lot in a little scooter.
"We tell everybody if you want to work for a politically-correct company, this isn't it," Hamilton says. "We have a tendency to joke around a lot. We're serious about what we do, but we also want to have fun."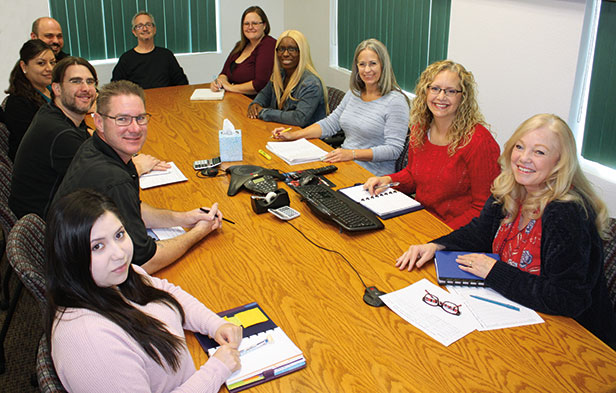 Digispec's management team during a daily morning production meeting.
This article was originally published January 4, 2019 on asicentral.com